St. Vincent Student Joins Semester at Sea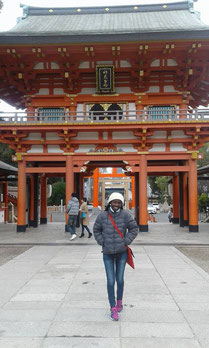 I met Maureen five years ago as a volunteer with St. Vincent's Rescue Center where she lives. I was immediately impressed by her strong and curious demeanor and her interest in the world -- despite having never traveled outside of Kenya. I got to know Maureen more and more over the years through several visits to Kibera – watching her grow and evolve as a role model to her siblings at the rescue center.  
As an alumni of the Semester at Sea program, I knew it would be an experience of a lifetime for Maureen considering her passion for global development issues. I sailed on Semester at Sea as a student and as a staff member and it is an experience that forever changed my life (and I undoubtedly shared my love of the program with Maureen time and again over the past 5 years)!  Semester At Sea is a study abroad experience like no other. Students travel to 11 countries across 4 continents while studying aboard a ship with faculty, staff, students and lifelong learners from across the globe.
Despite it being a perfect fit for Maureen, with its hefty price tag, I didn't think participating in the program was actually within the realm of possibility for her. However, when Maureen learned about a full-funded scholarship offered by Semester at Sea, she was dead set on applying. Full funding would be the only way she could participate. It was a huge long shot, but worth a try.
Maureen worked diligently over several months to prepare her application for a scholarship to join the Fall 2016 voyage. When she learned that she had been accepted only for a partial tuition scholarship, she was devastated to have to withdraw her student application. But Maureen refused to give up – deciding to reapply for the Spring 2017 voyage.  In September 2016, again after much hard work (this time she applied for every scholarship for which she was eligible), Maureen learned that she was awarded $20,000 to cover program tuition. I had the fortune of sharing the news. We cried and laughed – it was unbelievable. A quick and aggressive GoFundMe campaign helped us to raise funds for Maureen's in country expenses while Maureen hit the ground running to gather the visas she would need in advance of her departure (a harrowing process!).
In January 2017, Maureen flew to San Francisco, California where she was greeted by my family. She fulfilled her dream of seeing the Golden Gate Bridge and had a few days to explore the Bay Area with curiosity about EVERYTHING she saw! On January 4th, I flew to San Diego to meet with Maureen and the following day, saw Maureen off to join the Spring 2017 Semester at Sea voyage.  She could not have been more excited and so ready to see the world.
Over the past month, I've been keeping in touch with Maureen via email and a FaceTime call. She has now visited Hawaii and Japan and is en route to Vietnam. She says she loves everything about the ship and the voyage so far. She is on the council of the international student body, joined a salsa club, and is preparing to give a presentation about Kibera to her shipboard community.  
I cannot think of a better person to have the opportunity to be part of a program such as this one. It is an unbelievable experience of a lifetime for any student – but for Maureen it will have an impact not only on her, but on the 20 siblings back in Kibera that will see that anything is possible. 
- Christina Stellini, Resource Development Volunteer
Interview with Teacher Alice (cont'd)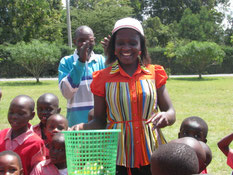 Q: What do you like most about your job?
A: What I like most is to see the vulnerable children from the slum being happy and also getting the right education, getting love and quality meals, which they normally lack at home. And seeing the parents – we have parents that are hopeless [at the beginning] and by the time we work with them for three years, we can see they are changed. For instance, those that are sick [HIV+] can accept themselves and we accept them as they are.  

Q: What is the most challenging thing about your work?
A: The most challenging is seeing some of the parents – most of our parents are illiterate and when we start "walking with them" they don't value education and we try to convince them to bring their children to school. They don't cooperate. Those who are not working, you try to empower them. Sometimes you get disappointed because you don't know how to help them. Even when we are helping the child in school, it's hard to help the parent. Some of them don't want help and want to be given everything. Also, [it is challenging] when you see young children suffering and they are innocent children. Some are suffering because of alcoholic parents and though it is a process to convince parents and to take them to a rehabilitation center, it becomes a challenge how you are going to come in and help the child.
Q: What are the biggest challenges for the children?
A: Food. Most of the meals that the children get here are the only meals that they receive until the following day. Sometimes the child is crying and they say their mother didn't cook at night. We prepare porridge early in the morning so it's ready by 8am so that we can start lessons off when children are fed. Another challenge is the children come from large families where there is no love. Some of the environments the children stay in -- it is a challenge for them to play. During the rainy season, most of the children sleep on the floor and the house leaks and water comes inside so they are forced to sleep the whole night standing. During the last rainy season, the house of one of our children's family collapsed and the child almost died. Also, it is a challenge to deal with children with learning disabilities and to convince the parent to accept the child and take the child to an assessment center. I can understand the problem of the child [with the disability] but the parent is still in denial.
There are some mothers that come to school and share with me about their HIV status and they request me to go see the husband and talk to him so that he can be accepted to be tested in the hospital. The wife doesn't want the husband to know that she is the one who gave me the information. The husband doesn't accept that he's HIV + but you know he is. So it becomes a challenge. Most men don't accept their status. So it is a challenge to encourage them to go get testing so they can get the drugs they need.
Q: How do you think St. Vincent's is helping these vulnerable children?
A: First and foremost, they come to school very early because of the food. It helps them to have enough nutritious food. We help children understand that there is another way of life from where they are brought up in the slum. It offers a conductive environment for learning and gives them quality education. By the time they leave here after three years, they have met the requirements to join primary school. We help by taking children to hospital if they are sick or have an emergency. The school provides children with uniform so they all look 'smart' and they look alike. You can't tell that they are coming from the slums and that makes us proud. The school helps the child by visiting the children. In case we visit your home and we find there is any other child at home, we come in and listen to your case and if it is school fees we pay or help recommend you or refer you to the hospital and pay for the bill. The school takes care of the whole family.
Q: What about the parents?
A: The school helps empower the parents – most of the supplies of the school (e.g., food, cereals, water) we give tender to our parents to be able to uplift them. It empowers them and encourages them to participate in their children's education and upbringing.
Q: What is the greatest need of the program?
A: The greatest need is money because everything we are doing requires money – for instance for uniforms, food, shoes -- so that we can be able to meet the needs of the children plus the parents plus the staff members.
Q: What are your future goals or vision of the program?
A: My future vision is to have a primary school because most of our children when they leave our school they go to public schools nearby Kibera where the ratio of child to teacher is 100 to 1. In St. Vincent's we have 1 teacher per 25 kids. So when they go where there is a ratio of t to 100, it is so big for the teacher to attend to each and every child especially because children have different learning abilities. At our school we give quality education. When children in our community don't qualify to go to public [primary] schools (e.g., because they lack birth certificate), they go to schools which are not registered and that do not have qualified teachers. In these schools, there is one room with three combined classes and one teacher. So we feel the quality of the education goes down.  

Q: Is there anything else you want to share with our donors?
A: The future of St. Vincent's is to reach more children in the slum. The slum is becoming bigger and bigger and the children are there and need our help. 
A Letter from Violet
The below excerpt comes from a letter written by Violet to St. Vincent's Board of Directors. Violent is one of the students St. Vincent's supports to attend college. In her letter, Violet thanks St. Vincent's for its support and she has permitted us to share her letter with you. 
---------
I come from a single family of eight where my mum is the bread winner of the family. My dad died long ago that even I can't remember his face how it looks. Being a single mum [my mom] - to educate those children was very difficult so she distributed others [children] to her sisters who were available. They [my siblings] were made house help where they don't attend school and this made them not to be interested in school. The three of them, who were older, got married earlier because of this -- because they don't have any other option so they decided getting married is what can help from the suffering they were getting from my mum's sisters. My mum saw this was not helping so she took us in to live with her. The only business she could do was to transport marijuana from Tanzania to Kenya.  She did this her whole life until she was found by the government and she had to serve her sentence in jail. 
This was the most difficult moment in my life as I had no dad, no relatives, nothing at all that gave me the hope to live. But one thing I kept on saying and telling my sisters is that we are serving a living God. He will not let us down and that our tears will not go to waste. The place we were living was hell: it was near a pub where you could find beer flowing inside our house. We couldn't do anything because we didn't have any option to live in a better place.
When I was in primary school, I kept telling Sharon and Helen [St. Vincent's Board Members] how I will go to boarding school and how I will go to the university. I didn't know where the money will come from, but what I knew was that I would fulfill my dream no matter what it would take. Luckily the Lord sent St. Vincent de Paul [Community Development Organization] who came to my rescue. I thank God for that. When my mother was in jail and we stayed alone in that dirty house -- no relatives, no friends, no mother, no dad -- our mother and protector was God. On behalf of my family, I take this opportunity to say we are really grateful for everything you [St. Vincent's] have done for us. This is where St. Vincent's took over. They visited us at our place, advised us and gave us food that could last us for a whole week. We were happy then so that we didn't have to depend on only one meal that was in school.
When I was taken in by St. Vincent's, I knew I couldn't be the same again. In terms of education, I could live the life I had longed for which is to have education, this is the best gift someone has ever given to me, but I couldn't do it without the advices of Aunt Lucy [St. Vincent's Director], Edwin [St. Vincent's Administrator], Robert, Henry, Thomas and Helen [St. Vincent's Board Members], you have shown me how great you are. You have really helped me a lot. You have shown me that life does not end where somebody is raised and that even that little fly has dreams and can really work hard to fulfill them.
The past of someone does not determine the future of somebody. I believe that now and forever. I was almost giving up because I couldn't bare the pressure anymore, but Edwin once told me that whatever you want in life will not come from a silver platter -- one needs to struggle in order to get it. And a humble person does not get tired until she gets whatever she wants. This means that my life will not end in Kibera. I know I am going places with the little knowledge I have I can help someone who has given up in life and really needs help or encouragement that he or she can't get it. I can put a smile on somebody.
Given the opportunity, I would really love to give back to the society, to put some smiles on the children's faces like they put on me. Thank you big time and love you all.